Vehicle Summary
1. mainly used for municipal sanitation department carries a variety of factories, mines and large garbage can transport dust, sand, stone, soil and other bulk materials.
2. Lift cylinder oil system (1) of the domestic well-known manufacturers of hydraulic double-acting cylinder. Rubbish car from hanging on down, can dump garbage on their own, up and down a working cycle time ≤50S.
3. the truck can be equipped with a plurality of bins, a car can be achieved with a number of joint operations junk car, cycle transport, to fully enhance the transport capacity of the vehicle.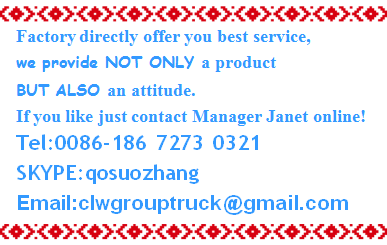 Production enterprise information
Vehicle name:
CLW GROUP TRUCK DONGFENG TESHANG 4X2 LHD/RHD 17CBM Dump Garbage Truck
Vehicle type:
Special vehicleLaws and regulations
Manufacturing place:
China
Type of licence:
The vehicle license plate classification standard
Announcement batch:
281
Release date:
20160225
product ID:
ZM2PC52N01K
Directory number:
(Seventeen)74
Chinese brand:
CLW GROUP TRUCK
English brand:


Announcement type:
CLW5160ZDJT5
Exempt from:
no
Enterprise name:
CLW GROUP TRUCK
fuel:
no
Business address:
The southern suburbs of Hubei Province, Suizhou city Zengdou District Chengli Automobile Industry Park
environmental protection:
no
Inspection instructions
Exemption:
no
Check the inspection period:


Announcement status
Announcement status:
effective
Effective date of announcement:
20160225
Announcement state description:
extend
change(extend)Record:


Main technical parameters
Outline dimension:
7790,7240*2500*3200(mm)
Cargo compartment size:
* *(mm)
Total mass:
15800(Kg)
Load quality utilization factor:
0
curb weight:
8000(Kg)
Rated load quality:
7605(Kg)
Trailer quality:
(kg)
Semitrailer saddle:


Cab:


Front passenger:
3(people)
Rated capacity:
(people)
Anti lock braking system:
Yes
Approach angle/Departure angle:
23/16(DEG)
The front suspension/Rear overhang:
1440/1850(mm)
Axle load:
5800/10000
Wheelbase:
3950,4500,5100,4700(mm)
Axis number:
2
Maximum speed:
90(km/h)
Oil consumption:
26.8,27.1
Spring sheet number:
9/12+10,8/10+7,8/10+8
Tyre number:
6
Tire specifications:
10.00R20,10.00-20,9.00R20,9.00-20
Front track:
1900,1880,1810
Rear wheel:
1860,1800,1800
Brake front:


After braking:


Before system operation:


After the operation of the system:


Steering form:
Steering wheel
Starting method:


drive system:


Oil consumption(L/100Km):
26.8,27.1
VinVehicle identification code:
LGAX2A12X x x x x x x x x x x x
LGAX2A13X x x x x x x x x x x xLaws and regulations
Engine parameters
Engine
Engine production enterprise
displacement(ml)
power(kw)
ISD180 50
YC6JA180-50
Dongfeng Cummins Engine Co., Ltd.
Guangxi Yuchai Machinery Limited by Share Ltd
4500
6870
132
132
Vehicle fuel parameters
Fuel type:
diesel oil
Based on standard:
Chassis emission standard:
GB17691-2005China V,GB3847-2005
Other
With the optional chassis cab. The corresponding relationship between vehicle size and wheelbase is(mm):7790/4500,7240/3950. Protective material:Q235Acarbon steel,Connection mode:The left and right sides and the rear lower part are protected by welding connection,Rear section size(mm):120*50,Rear protection height(mm):500.ABSModel:ABS-E 4S/4M,Manufacturer:WABCO vehicle control system(China)Limited company. Text spray location and vehicle color change. Engine fuel consumption value(L/100km)byISD180 50/26.8, YC6JA180-50/27.1.
Reflective marking parameters
Marking enterprise:
CLW GROUP TRUCK
Logo mark:
CLW GROUP TRUCK
Identification model:
TM1200-1,HW1400
Manufacturer & supplier ? We have a wide selection at great prices to help you get creative. All the
are quality guaranteed. We are China Origin Factory of DONGFENG TESHANG
. If you have any question, please feel free to contact us.