1. DFAC High Quality Chassis, 4X2 Drive, LHD/RHD
2.Self suction, self discharge function, front flushes sprinkles, side spurts, post positioned work table.
3. High-pressured Sprinkler, spraying of water to be possible to adjust columnar and the fog shape.
4. Optional fire pump and fire-fighting accessories.
5. Especially suitable for the municipal administration environmental sanitation department, the large-scale industry and mining enterprise.
6. 3C ISO BV FORM E approved, accept customes' OEM customized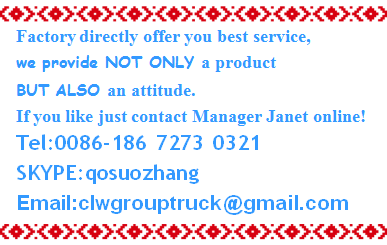 Production enterprise information
Vehicle name:
Dongfeng 4X2 13CBM Water Sprinkler For Plant
Vehicle type:
Special vehicleLaws and regulations

Manufacturing place:
China
Type of licence:

The vehicle license plate

Announcement batch:
283
Release date:
20160428
product ID:
ZM5JK54K013
Directory number:
(Seventeen)74
Chinese brand:
CLW GROUP TRUCK
English brand:


Announcement type:
CLW5163GPSD5
Exempt from:
no
Enterprise name:
CLW GROUP TRUCK
fuel:
no
Business address:
The southern suburbs of Hubei Province, Suizhou city Zengdou District Chengli Automobile Industry Park
environmental protection:
no
Inspection instructions
Exemption:
no
Check the inspection period:


Announcement status
Announcement status:
effective
Effective date of announcement:
20160428
Announcement state description:
extend
change(extend)Record:


Main technical parameters
Outline dimension:
8200,8400,8600*2470*3160(mm)
Cargo compartment size:
* *(mm)
Total mass:
16000(Kg)
Load quality utilization factor:
0
curb weight:
6300(Kg)
Rated load quality:
9505,9570(Kg)
Trailer quality:
(kg)
Semitrailer saddle:


Cab:


Front passenger:
3,2(people)
Rated capacity:
(people)
Anti lock braking system:
Yes
Approach angle/Departure angle:
26/13(DEG)
The front suspension/Rear overhang:
1250/2450,1450/2450(mm)
Axle load:
6000/1000
Wheelbase:

3650,3800,3950,4200,4500,

Axis number:
2
Maximum speed:
90(km/h)
Oil consumption:


Spring sheet number:
9/10+8
Tyre number:
6
Tire specifications:

9.00-20,9.00R20,10.00-20,

10.00R20,10R22.5

Front track:
1940,1900,1810,1965
Rear wheel:
1860,1800,1800,1860
Brake front:


After braking:


Before system operation:


After the operation of the system:


Steering form:
Steering wheel
Starting method:


drive system:


Oil consumption(L/100Km):


VinVehicle identification code:
LGAX2A12X x x x x x x x x x x x
LGAX2A13X x x x x x x x x x x x
LGAX2B12X x x x x x x x x x x x
LGAX2B13X x x x x x x x x x x x Laws and regulations
Engine parameters
Engine
Engine production enterprise
displacement(ml)
power(kw)
YC4EG160-50
ISD185 50
ISD210 50
YC6JA180-50
Guangxi Yuchai Machinery Limited by Share Ltd
Dongfeng Cummins Engine Co., Ltd.
Dongfeng Cummins Engine Co., Ltd.
Guangxi Yuchai Machinery Limited by Share Ltd
4730
4500
6700
6870
118
136
155
132
Vehicle fuel parameters
Fuel type:
diesel oil
Based on standard:
Chassis emission standard:
GB17691-2005China V,GB3847-2005
Other
1,Transport medium: Acetone aqueous solution,density:800Kg/Cubic metre,Effective volume of tank:12.46Cubic metre,Vehicle length,Tank size(Long x long axis X short axis),Wheelbase,The corresponding relationship between the front suspension and rear overhang for(mm):8200/(5000*2300*1500)/4500/1250/2450,8400/(5000*2300*1500)/4500/1450/2450,8400/(5200*2300*1450)/4700/1250/2450,8600/(5200*2300*1450)/4700/1450/2450;2,Side protection and rear lower protection devices are usedQ235ATexture of material,Welded connection,Rear lower protection dimension:150*50(mm),Height from the ground530mm.3,ABSModel:3631010-C2000,Manufacturer: The East Branch Knorr commercial vehicle braking system(Shiyan)Limited company.4,Text spray location, vehicle color and local details can be changed.5,With the optional chassis cab.
Reflective marking parameters
Marking enterprise:
CLW GROUP TRUCK
Logo mark:
CLW GROUP TRUCK
Identification model:
TM1200-1,HW1400
Looking for ideal Water Sprinkler For Plant Manufacturer & supplier ? We have a wide selection at great prices to help you get creative. All the Agricultural Water Sprinkler are quality guaranteed. We are China Origin Factory of 13CBM
. If you have any question, please feel free to contact us.