Why choose us?!
1.We offer individual needs of vehicles, customized according to your needs.
2. Our products have lower prices and better quality.
3. Our delivery time is very short.
4. We offer a variety of shiping methods and payment methods.
5. We focused on product use and care of private advisory services.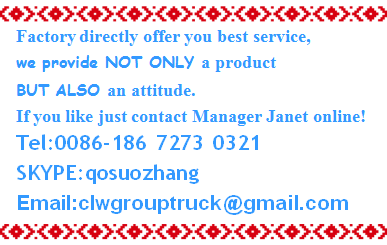 Production enterprise information
Vehicle name:
FAW 8X4 18CBM Chemical Liquid Tanker Truck
Vehicle type:
Special vehicle Laws and regulations
Manufacturing place:
China
Type of licence:

The vehicle license plate

classification standard

Announcement batch:
283
Release date:
20160428
product ID:
ZM5K054K01W
Directory number:
(Seventeen)74
Chinese brand:
CLW GROUP TRUCK
English brand:


Announcement type:
CLW5320GFWC5
Exempt from:
no
Enterprise name:
CLW GROUP TRUCK
fuel:
no
Business address:
The southern suburbs of Hubei Province, Suizhou city Zengdou District Chengli Automobile Industry Park
environmental protection:
no
Inspection instructions
Exemption:
no
Check the inspection period:


Announcement status
Announcement status:
effective
Effective date of announcement:
20160428
Announcement state description:
extend
change(extend)Record:


Main technical parameters
Outline dimension:
11760*2500*3505(mm)
Cargo compartment size:
* *(mm)
Total mass:
32000(Kg)
Load quality utilization factor:
0
curb weight:
13540(Kg)
Rated load quality:
18265,18330(Kg)
Trailer quality:
(kg)
Semitrailer saddle:


Cab:


Front passenger:
3,2(people)
Rated capacity:
(people)
Anti lock braking system:
Yes
Approach angle/Departure angle:
13/11(DEG)
The front suspension/Rear overhang:
1460/2450(mm)
Axle load:
6500/6500/19000(And loaded with biaxial)
Wheelbase:
1950+4550+1350(mm)
Axis number:
4
Maximum speed:
79(km/h)
Oil consumption:
44.76
Spring sheet number:
3/3/-
Tyre number:
12
Tire specifications:
10.00R20,11.00R20,12R22.5
Front track:
1987/1987
Rear wheel:
1860
Brake front:


After braking:


Before system operation:


After the operation of the system:


Steering form:
Steering wheel
Starting method:


drive system:


Oil consumption(L/100Km):
44.76
VinVehicle identification code:
LFNFVUMXX x x x x x x x x x x x Laws and regulations
Engine parameters
Engine
Engine production enterprise
displacement(ml)
power(kw)
CA6DK1-28E5
China First Automobile Group Corporation
7146
209
Vehicle fuel parameters
Fuel type:
diesel oil
Based on standard:
Chassis emission standard:
GB17691-2005China V,GB3847-2005
Other
The vehicle is suitable for transporting dangerous goods. Transport medium name:sodium hypochlorite,Hydrogen acid,sulphuric acid,Density respectively:1050Kg/Cubic metre,1047Kg/Cubic metre,1045Kg/Cubic metre;Item No.:8;Effective volume of tank:18.2Cubic metre;Tank size(Length * diameter)(mm)by:8700* Phi1780. Protective material:Q235Acarbon steel,Connection mode:The left and right side and rear protection are welded connection,Rear protective section ruler(mm):120*50, Rear protection height(mm):480. Only use chassis radial tires and beltsABSChassis.,The front wheel of the vehicle is fitted with a disc brake,Front exhaust pipe,Assembling speed limiting device,Speed limit79km/h. Vehicle traveling data recorder with satellite positioning function. Chassis with optional flat cab.ABSSystem manufacturer:Zhejiang Wanan Polytron Technologies Inc,Model:VIE ABS-Ii.
Reflective marking parameters
Marking enterprise:
CLW GROUP TRUCK
Logo mark:
CLW GROUP TRUCK
Identification model:
TM1200-1,HW1400
Manufacturer & supplier ? We have a wide selection at great prices to help you get creative. All the 18CBM Chemical Liquid Tanker Truck are quality guaranteed. We are China Origin Factory of Corrosive Liquid Transport Truck. If you have any question, please feel free to contact us.